Miscellany Monday is just what this blog needs.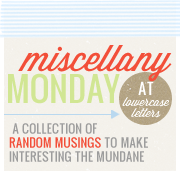 1.
Dinner
. I tried two new recipes tonight and they were both incredible.
Oh my
. I've been trying to cut back on sweets. I ever forwent a Starbucks this afternoon when I had the chance and opted for water. But, tonight, Paula Deen single handedly defeated
all
of my healthy efforts in one meal.
2.
Christmas
. I don't shop much. It seems I don't get out much. Anyway, I had to go to Target today to get a prescription filled and there were shelves full of Christmas lights and Christmas decorations. Christmas?
Really?
It's still September. Has this been happening for years?
3.
Student of the Month
. My 2nd son was Student of the Month for his class in September. I am super proud of him. I have to admit, I was surprised. Oh, I know he's amazing. He surprises me all of the time with his academic ability. But, he's a talker (like his dad). That's why his award surprised me.
4.
Sweet Tea
. It goes really well with Paula Deen recipes.
5.
Birthdays
. I am super, super bad at dates. It's ironic. I love celebrating birthdays and special events. However, I am really bad at time management, planning ahead to shop and mail gifts. I'm feeling bad because I've missed so many birthdays this year... mainly all 1000 of my family and friends that don't live near me. (yes, yes, I know... not 1000. But it feels like I've missed 1000 birthdays.) I started thinking about this today at Target when I realized how behind on shopping I am and... apparently Christmas shopping is right around the corner-from the Halloween candy.
6.
I don't know
. Some well-meaning, wonderful people have asked how I am doing. I don't know. I really don't know how to answer that question. I am trudging along, making it through each day. I've been more stressed than normal. I'm sure that's normal.
7.
Saturday is a big day
. For the Tide. We play Florida. I'm already anticipating watching the game.
8.
Multitasking is difficult
. Last Saturday, I was trying to watch 2 kids play soccer (same time, different fields), keep tabs on a roaming 2 year old and busy 7 year old,
AND
check the score of the Alabama football game. Seriously, getting the Bama's behind scores about did me in.
Thankfully
, Alabama pulled that one out in the end.
9.
Pushups
. Make my arms really sore.
10.
Kissing
. Kissing is a funny topic for my boys these days. I overhead my 5 year old telling his brothers what he wanted to be when he grew up. He followed that right up with, "I am
not
going to kiss when I am a grown-up." I laughed so hard. I asked him why and he said, "because it's yucky". Of course, my 7 year old son said, "I think you'll like it." Meanwhile, my 9 year old was pretending to throw up.
11.
Grocery List
. I've got to go make a grocery list now.